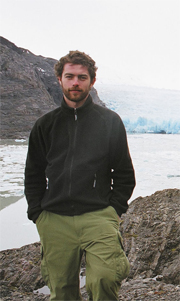 Alexandre Chenet is 29 years old. His parents met on a boat, so it may come as no surprise that he learnt to swim before learning to walk. As a child, his summer holidays were spent onboard with his parents and siblings sailing in between Britanie, and Grate Britain.
From the age of 10, various sports began to play a huge part in his life. More than the physical aspect, Alexandre was interested in understanding the psychological commitments of his practices.

Skateboarding: full dedication, entering competitions, gaining sponsors, co-creation of Tricks (the only skate-board French magazine at that time).


Snowboarding: At 15 Alexandre discoverd the mountains, triggering an ever growing passion for the subject. He went on to spend several winters in the French Alpes thus gaining enough knowledge to go free-riding safely.


Rock-climbing: his initiation takes place in Paris, his passion for the mountains takes him once again to explore the French Alpes where he leads in 5, or 4.


Alpinism is just a natural progression, he began to organise several expeditions.
One of these spent with two friends exploring the Moroccan High Atlas, discovering a new culture, becoming inspired, and resulting in the publication of a travel journal.
Another trip takes him to the North Chilean side of Patagonia for two months, trekking through the primitive forest with one of his friends. His first one man expedition takes him to the Torres del Paine. He spent a month in winter exploring the powerful landscapes.
This is followed by another solo expedition skiing across the French Alpes.
In his early twenties he studied Graphic Design, providing a means to combine all his interests. Throughout his adventures Alexandre likes to draw graphic traces of his experience producing texts, and photos in travel journal or magazine forms.
His freelance status in the cultural field: theatre, performance, literature or comics publications, and also advertising for specialised brands or shops allowed him to have a rich and versatile experience of life. He is currently head of Dargaud's graphic studio, the leading French comics publisher.